By JOSEPH FITZGERALD
jfitzgerald@woonsocketcall.com
BELLINGHAM – Changes in pastoral leadership could be coming to St. Blaise and St. Brendan's Roman Catholic parishes as part of a plan by the Roman Catholic Archdiocese of Boston to create a collaborative among the two Bellingham parishes.
As part of the plan, the two church buildings will remain open and maintain their separate identities, but there will only be one pastor and one pastoral team overseeing both parishes beginning in 2021.
Set in motion in 2012 by Cardinal Sean O'Malley, the Archdiocese of Boston's pastoral plan "Disciples in Mission" identified parishes' main challenges: declining Mass attendance, shrinking numbers of priests and trained laity, and an increasing number of parishes unable to sustain themselves financially.
To address those challenges, the 288 parishes of the archdiocese – including the two Bellingham parishes – are being organized into approximately 135 collaboratives over the course of several years.
Phase 6 is underway this year with a new phase beginning each following year until 2023.
St. Blaise and St. Brendan's parishes will collaborate in Phase 9 of the plan in 2021, which will include 13 other church collaborations from Plymouth to Marlboro.
Rev. Albert M. Faretra, pastor of St. Blaise, says the pastoral plan is an ongoing effort to keep parishes open during a shortage of priests. According to the Archdiocese's data, roughly 70 percent of all Catholics in the Archdiocese of Boston attended Mass on a weekly basis in 1970. Now, that figure is about 15 percent.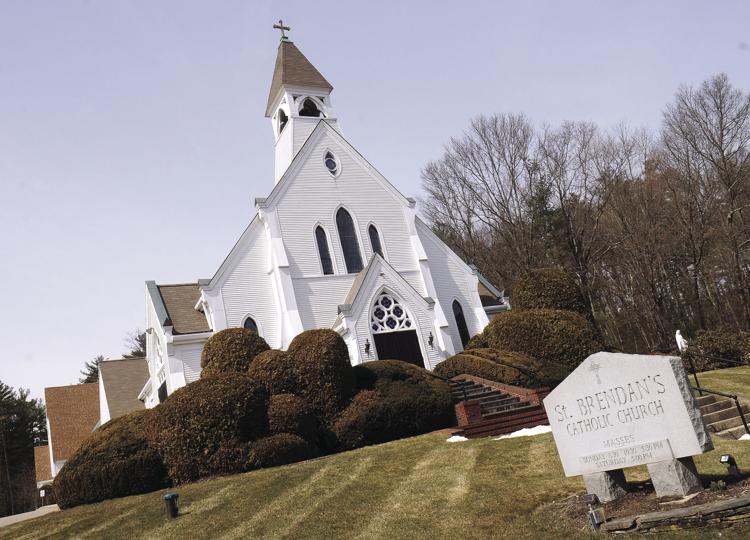 As part of the plan, the archdiocese is reassigning several priests and bringing in new ones to serve several churches at the same time. Parishes began entering the plan in 2013, with five to 20 parish collaboratives per year being created, and will continue to 2023 in a phased approach.
The pastoral plan has some Catholics in Bellingham worried about the future of their churches, which has led to rumors that the Archdiocese is planning to close either St. Blaise on Main Street or St. Brendan's on Hartford Avenue.
"Neither St. Blaise nor St. Brendan's will be closing," Faretra said Tuesday. "The idea is to bring two or more parishes together under the leadership of one pastor and one pastoral team, but neither of the two churches is closing."
According to Faretra, the collaboration between St. Blaise and St. Brendan's means that there will be one pastor, one pastoral team and a collaborative Pastoral Council overseeing a local pastoral plan for both parishes. However, both parishes will maintain their separate identities and church buildings, assets and obligations and parish finance councils.
"The new collaborative will affect every Catholic, active or lapsed, throughout the community," he said.
St. Blaise is hosting two informational meetings on the planned collaborative on Tuesday, April 10. The first will be after the 9 a.m. Mass and the second will be at 7:30 p.m.
Faretra has invited Rev. Paul Soper, secretary for evangelization and discipleship and director of pastoral planning for the archdiocese, to attend the meetings, which Faretra says will be an opportunity for parishioners to learn what to expect and how to plan as the collaboration of the parish communities moves forward.
"Our hope is to clear the air and dispel some of the rumors so our parishioners have a better understanding of what this collaborative pastoral plan is all about," he said.
Until now the archdiocese has been unveiling groups of new parishes set to begin implementing Disciples in Mission about a year in advance. With the most recent announcement, many parishes are learning which phase they might be placed in multiple years in advance.
As for the collaboration between St. Blaise and St. Brendan's parishes, the logistics of that reorganization, including who will lead the two parishes – Faretra or Rev. David J. Mullen, pastor of St. Brendan's – will be worked out as the pastoral plan inches closer to its ninth phase in 2021.
Faretra was pastor of St. Joseph's Church in Belmont since 2001 before taking over pastoral duties at St. Blaise in 2011.
The Archdiocesan Pastoral Planning Commission's plan require pastors of parish collaboratives to reapply to the archdiocese, which would ultimately make the decision on who will lead the collaborative. It may be that the best priest for the position will be one of the current pastors, or it may be best that a new pastor would come in from outside of the collaborative.
In January 2006, O'Malley established committees to explore faith formation, marriage and pastoral planning. The 15-member Pastoral Planning Committee – made up of priests, religious and lay leaders – was charged with suggesting ways for the archdiocese to use its resources to continue the Church's s mission.
After 18 meetings over the course of 15 months, the committee in 2007 recommended a commission be formed to develop and implement a specific pastoral plan for Boston. The archdiocese created the Office of Pastoral Planning in 2008.
Faretra says he is confident the parish collaborative will be embraced by his parishioners, many of whom were former members of Assumption Parish, which closed and merged with St. Blaise in 2004. That year, it was announced that nearly one-fifth of the parishes in the Roman Catholic Archdiocese of Boston were to be closed partly by declining attendance and increased financial problems that were worsened by the sexual abuse crisis among clergy members.