By RUSS OLIVO
WOONSOCKET – He shot through local politics like a Roman candle, with a trajectory that was as brief as it was colorful and, sometimes, explosive.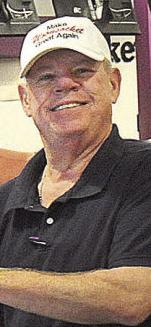 Now friends and former colleagues are recalling the life of former Councilman Richard Fagnant after his sudden death on Friday. No cause was given in his obituary, but WNRI talk host John Dionne told listeners Fagnant died of an apparent heart attack. He was 69 years old.
Known for his blunt language and occasionally confrontational style, Fagnant didn't fit into a traditional political mold and some likened him to President Donald Trump, who he admired, says Chris Bouley, a local pundit and regular guest host on WNRI's morning show.
"I would say his heart was in the right place and he wanted to make a difference," Bouley said. "He wasn't always as smooth as he could have been but he wanted to make the community better and he had a passion for it."
Former City Council Vice President and mayoral contender Jon Brien, who served with Fagnant on the council, agreed.
"Richard and I didn't always see eye-to-eye on a lot of things," Brien said. "When we agreed, we really agreed, and when we disagreed, we really disagreed. But he marched to the beat of his own band and while I took issue with his style at times, I would say his heart was in the right place. Richard wasn't just talk, he served his community in a time where people don't want to step up or won't."
Brien said he never saw anyone work harder than Fagnant to get elected to the city council in 2016 – for what would be his only term. As he campaigned for office, he pitched himself as the people's watchdog who would work to protect taxpayers from being gouged by government and fight corruption.
"He had a blunt approach to what he believed was right," said Council President Dan Gendron. "I'm not saying that's right or wrong but that's just how he carried himself."
Fagnant had a hankering to get involved in politics that began long before he was elected. He made an unsuccessful run for council three years earlier. And in 2014 he tried to unseat State Rep. Stephen Casey (D-Woonsocket), falling about 120 votes short of doing so.
His first foray into public service came not in an elective position, but as an appointed member of the Zoning Board of Review. And Fagnant's potential for igniting conflict in public discourse became apparent soon after.
As a member of the zoning board in 2015, Fagnant shared an image on Facebook of President Barack Obama with a Marine holding a handgun to Obama's head. Around the same time, he shared material on the social media platform that likened the prophet Muhammad, founder of Islam, to a pedophile.
When someone criticized him for participating in such activities, Fagnant lambasted that individual as a "whiny pansy." But Fagnant didn't deny his involvement in the Obama brouhaha, and later, when he was questioned about it, he confirmed his actions resulted in members of the Secret Service paying him a visit at his home on Coe Street. There were no legal repercussions, however.
But the fallout from the incident led to what is probably Fagnant's most tangible legacy – a nudge toward greater transparency in the operations of the city council.
Even through he had not yet been elected to the panel, council members who were in office during the flap over the Obama photo publicly discussed whether Fagnant should face sanctions of some sort, due to his position as a zoner. Fagnant responded by filing a complaint against the council with the Office of the Attorney General, contending the officials had failed to provide him with proper advance notice that he was to be a topic of discussion at a regular meeting.
State prosecutors ruled in his favor, saying the agenda of the meeting, published several days before the meeting, as mandated by the Open Meetings Act, failed to include the required prior notice of the council's intent to discuss Fagnant's actions on social media.
Fagnant filed a similar complaint against the council in 2019 – at a time when he was no longer a councilman – documenting three occasions that year when the council committed the same types of transgressions as they spontaneously discussed various topics under the so-called "good and welfare" portion of the meeting – traditionally a spot for ad-libbing. Once again, the attorney general sided with Fagnant, declaring that the council had been improperly using that segment of the meeting to discuss substantive matters of civic interest without providing the required advance notice.
The attorney general took the unusual step of filing suit in Superior Court in attempts to prohibit the council from including good and welfare on its agendas in the future. For now, the heading still stands, but councilors have standardized new procedures for disclosing on their agendas anything they envision talking about during that portion of the upcoming meeting.
Gendron has mixed feelings about the impact of Fagnant's OMA complaints against the council. On one hand, he says, greater transparency is positive for civic discourse, and it's a goal he's long aspired to achieve on the council. But Gendron says the restrictions placed on the panel as a result of Fagnant's complaints have tended to stifle open, productive dialogue.
"We may have gone too far and people are afraid to even speak, which is unfortunate," he says. "It's a fine balancing act and the pendulum may be too far one way but I think it'll find its center again."
In addition to being a politician, Fagnant was also a self-employed businessman and a family-man. For more than two decades, he owned and operated Key Decorated Apparel, a silk-screening company that customized hats, T-shirts and other gear, mostly for promotional purposes.
He died two days before his 45th wedding anniversary, his wife Patricia disclosed on her Facebook page.
"Well Richard we almost made it to 45 years," she posted. "In my heart we will be together forever. Love you."
Besides his wife, Fagnant also left two children, Allison and Kathleen, both of Woonsocket. His obituary says the Holt Funeral Home, 510 South Main St., will hold visitation for him from 5-7 p.m. on Thursday. All other funeral services will be private.
Follow Russ Olivo on Twitter @russolivo