NORTH SMITHFIELD
As the Sadwin family remember it now, July 20, 1969 was a family television night like no other, a night when they saw man walk on the moon.
Camped out in their living room at 25 Morse Ave., the Sadwins were like many families in the area, waiting that night to see NASA astronauts Neil Armstrong and Buzz Aldrin exit their lunar lander and leave man's first footprints in the dust of the moon.
But as his children point out, Woonsocket drapery manufacturer Daniel Sadwin was more than just a casual observer of the event — he was a serious space enthusiast who had tracked America's efforts toward the landing all through the 1960s, ever since President John F. Kennedy's famous promise to send men to the moon by the end of the decade.
Daniel Sadwin's interest in all things space would inspire an equal interest in the space program in his five children — eventually culminating when his eldest daughter, Leisa Sadwin Winrich, became an applicant to NASA's Teacher In Space program while she was a special education resource teacher at the Halliwell Elementary School in the 1980s.
"I remember when they landed on the moon we were watching it on a black and white television set in the corner of the room," said Winrich, who is still teaching, now in Franklin, Mass..
Winrich said the family took photographs off the television screen to record the moment. Her father had been an aerial photographer flying on planes over Europe during World War II and came home with a love of science, engineering and technology as a result.
"There was a special way to do it and we had looked it up," Winrich said of the family's lunar landing photographs.
Her brother, Brian Sadwin and sister, Sharon Sadwin-Felch, recently pulled out one of those old black-and-white prints to show a reporter how well it came out this week.
The grainy, high-contrast photo shows the lines running across the television screen that everyone who watched the moon broadcast live that long ago July night surely remembers.
It also provides a good view of Armstrong and Aldrin in their space suits outside the Eagle lunar lander at Tranquility Base with the American flag already on its flag pole.
While Dan Sadwin, who died in 1998, was the leader in the family's affection for all things NASA, Winrich said her brothers Alan and Sheldon, herself and Brian and Sharon followed suit.
Alan Winrich, who lives in Wantagh, N.Y., has met original NASA astronauts like Alan Shepherd over the years, Aldrin, and fellow Apollo moon mission astronauts Fred Haise, of Apollo 13, and Harrison Schmidt, of Apollo 17.
Brian Sadwin said his father, the operator of Stitchers Inc. at 1081 Social St. in Woonsocket, believed a person should continue to learn about things throughout life. Stitchers, which made curtains and window treatments, was known throughout New England and beyond, and had been part of the city's vibrant small business and manufacturing community. Brian and the rest of the family helped out in the shop until it closed in 2000, two years after his father's death.
Aside from watching the moon landing on television, Brian Sadwin said the next biggest event he can remember watching as a nation-gripping television event was when his father stopped work at Stitchers so everyone could watch the USA Hockey Team win gold in the 1980 Winter Olympics at Lake Placid, N.Y.
Daniel Sadwin was also a Woonsocket promoter and had been friends with the founders of the city's annual Autumnfest celebration, Norman G. Rock and Roger N. Begin. He showed his civic pride by entering his unusual Isetta car in the Columbus Weekend festival's parade each year beginning in 1980, a tradition his family continues even today, and yes occasionally decorated with NASA-linked themes.
On July 20, 1969, Brian remembers the very grainy image on the family's television with its glaring highlights and deep shadows.
"You could barely see the astronaut coming down but you saw enough to know he had taken his first step on the moon," Brian Sadwin said.
It was a life-changing moment for anyone who saw it, he offered. "Man had stepped on to the moon and you could go outside and look at the moon and say men are on the moon. It is hard to believe they did that," he said.
Sharon Sadwin-Felch was the youngest of her siblings watching and has less detailed memories but can recall sitting with her family looking at the old black and white television as history was made.
Today she likes to tell her memories of the historic moment to her children, Jessica, 23, Brittnay, 16, and Justin, 11.
"It's fun because my kids just can't grasp it," she said. "I think that they try to understand how this happened but is a long, long time ago and they can't really grasp the magnitude of how fascinating an event it was," she said. "They grew up with all the technology that came after, and they've been to NASA and we saw a launch of a Space Shuttle, but they still can't figure out all our fascination about it," she said of the lunar landing.
'Send Leisa to Outer Space'
Winrich's interest in space led her to apply to NASA's Teacher in Space Project when it was announced in 1985. She, along with Barrington science teacher Ronald Reynolds, became Rhode Island's two nominees to a semi-finalist class of 114 candidates from the 50 states, Puerto Rico, Guam and Native American lands, who were interviewed in Washington D.C.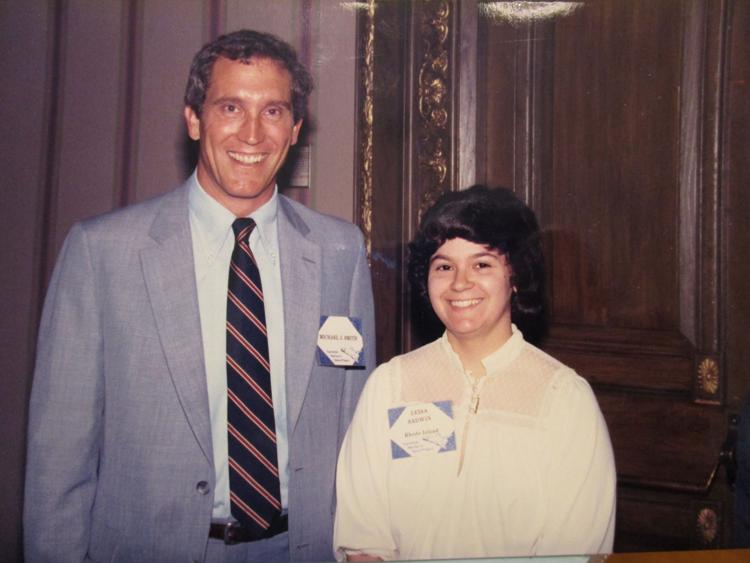 Winrich did not make into the finalist round of 10 teachers accepted for NASA spaceflight training, but did get to know Christa McAuliffe, the New Hampshire educators who eventually won the selection process.
In a tragedy that shocked the nation, McAuliffe was killed along with her fellow shuttle Challenger crew members, Gregory Jarvis, Judy Resnik, Dick Scobee, Ronald McNair, Michael Smith and Ellison Onizuka, when the shuttle broke apart shortly after launch on January 26, 1986.
Winrich and many of other Teacher in Space applicants traveled to Kennedy Space Center to watch Challenger launch, and have remained in contact in the years since, helping each other come to terms with the tragedy and the human costs that have always followed man's journey into space.
Likewise, those closely watching Apollo 11's mission in July of 1969 knew the danger involved, since just two years before, three Apollo astronauts, Gus Grissom, Ed White, and Roger Chaffee, had been killed in a flash fire sweeping their Apollo 1 capsule as they conducted pre-mission training on the launch pad in at Kennedy Space Center on Feb. 21, 1967.
The Sadwins' were among those following most closely, with Leisa and her siblings cutting out articles and making scrapbooks about its milestones with the help of their father and mother, Rebecca.
After seeing man walk on the moon, they continued to follow NASA's achievements with the subsequent moon missions, including the harrowing time watching as the crew of Apollo 13 ended their own bid to land following an oxygen tank explosion in the command module and just making it home while using the lunar lander as a lifeboat. That story of astronauts Jim Lovell, Fred Haise, and Jack Swigert's April 1970 odyssey home became the movie, "Apollo 13," the most well-known film on the Moon program until last year's Neil Armstrong biopic, "First Man."
Winrich also remembers how her family's interest generated humorous moments like the time she and Brian went to Union Cemetery on Great Road because the sky was wide open there and they could get a good view of an Apollo command module hooked up to NASA's Skylab ­— an early precursor to the International Space Station that was in orbit from 1973 to 1974.
"Brian and I went there because you could see it pass by with the naked eye," she remembers. Of course a North Smithfield police officer did show up to find out what was going on in the cemetery — Winrich said he ended up watching the fly-by with them.
Years later, Winrich would take advantage of a similar opportunity with her two children, Brandon and Shaina, to watch as the International Space Station made a pass overhead in the night sky.
Getting over the Challenger disaster was not easy, Winrich admitted, and she will get emotional thinking about the crew members she knew even today. But she still looks up to the skies for inspiration while teaching young people and said she often seeks to connect her students with the accomplishments of the Apollo program even as it becomes more of a long-ago history lesson with each passing year.
Man has not returned to the moon since the Apollo 17 mission in December 1972, and as a result the accomplishments of NASA's female astronauts such as Sally Ride, Judith Resnik, Kathleen Sullivan, and Barbara Morgan, have all occurred in near Earth orbit from the Shuttle or International Space Station.
The future may hold opportunities for farther-reaching exploration given the work now happening with NASA's private space contractors such as SpaceX, Lockheed Martin and Boeing, to take astronauts back to the moon and even on to Mars.
"I know it's between the moon and Mars but Mars will be a much longer duration mission," Winrich said.
Whether it is the moon or Mars, Winrich believes people will continue to head out into space and continue to create the innovations and technologies needed to get there.
"All I know is that the kids I have in school today are going to have jobs that don't even exist today," she said. "They are the ones we are going to have to keep interested in what lies ahead," she said.
Follow Joseph Nadeau on Twitter @JNad75