McGAIR: Mount St. Charles to honor the Belisles prior to Friday's game against Hendricken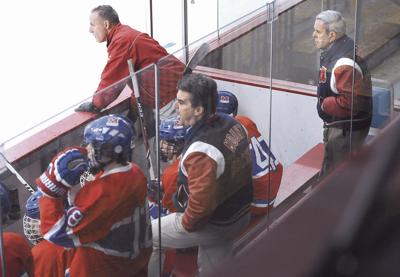 A little of this, a little of that …
• Throughout their spectacular coaching careers, Bill and Dave Belisle have made it their mission to avoid the spotlight at all costs.
This coming Friday night, the father-son duo won't be able to outrun the pomp and circumstance that's scheduled to take place at Adelard Arena. Before the puck is dropped for a contest where first place will be on the line against Bishop Hendricken, the Mount St. Charles community will conduct an on-ice pregame ceremony that honors the Belisles and the fact that they'll be coaching their final Rhode Island Interscholastic League regular season home game.
The Adelard doors will open at 6:15, with the festivities scheduled to begin promptly at 7:30. A word of warning for those planning to arrive closer to game time, which figures to be closer to 8 o'clock … you will be turned away. Mount officials are anticipating a sellout crowd, hence it would behoove patrons to show up with plenty of time to spare.
"My bet is that we'll have close to 1,000 people in there. Once you're in, there's no re-entry," Mount athletic director Ray Leveille said. "This is about the school honoring the Belisles. We not only want to have a good turnout for the game, but also to celebrate their careers."
Tickets for what figures to be an in-demand event are $5. There will be no presale. For $10, you can purchase a commemorative "Belisle Final RIIL Home Game" T-shirt. Those will be on sale in the Adelard Arena lobby.
The ceremony will include words from Dave Belisle and Mount president Alan Tenreiro. Publicly, Bill Belisle has always been a man of few words. It has been confirmed he'll be leading his patent "hip-hip hooray" chant where Bill starts by saying "hip hip" and everyone else chimes in with "hooray."
"It's going to be a nice touch," Leveille said.
• At the David Hemery Valentine Invitational held this past weekend at Boston University, Cumberland High graduate Meaghan Scullin set a Quinnipiac University women's indoor track record in the long jump event. Scullin's leap of 5.53 meters earned the junior a ninth-place finish at the meet.
• Keep in your prayers, if you will, for Tolman High baseball head coach Theo Murray, who recently lost his mother Arlene, and Davies Tech athletic director Bob Morris on the passing of his father Robert Sr.
• Named to the 2019 R.I. Golden Dozen are three local high school football seniors who garnered plenty of headlines throughout their respective careers and were just as stout in the classroom. The special list includes Woonsocket's Emmanuel Gomes, Tolman's Justin Klemanchuck, and Lincoln's Julien Karraz. They will be officially recognized at an awards dinner that's scheduled for Wednesday, April 24 at the Crowne Plaza Hotel in Warwick.
• Returning to the boxing ring for a Saturday, Feb. 23 bout at Twin River is Pawtucket native/Tolman High graduate Ricky De Los Santos, who'll put his undefeated record (6-0 with one knockout) on the line against Indianapolis native Javar Jones (7-1, two knockouts). The two will square off in a six-round bout.
• Resurfacing with the NBA's Sacramento Kings is Cumberland native Mike Roncarati as the team's head of prevention and rehabilitation. Before joining the Kings, Roncarati worked on the athletic performance staff of the Atlanta Hawks and the Golden State Warriors.
• It's been confirmed that CCRI-Warwick will host the interscholastic boys' basketball divisional finals and the quarterfinals of the open state tournament. The divisional semis and state first-round games will take place at neutral high school sites that for the moment are TBD.
• Some advice to high schools with student-athletes armed with set-in-stone plans to compete at the NCAA Division III or junior-college level: set some time aside in the spring for something called Acknowledgement Day. It could be part of a school-wide assembly or at an athletic banquet. This way, they would receive recognition for going on to play at the next level.
• This column would have been longer, but it's time to administer a test to the Boston Celtics. The subject is chemistry. Sounds like grading on a curve is in order.
Follow Brendan McGair on Twitter @BWMcGair03. Check out the "Ocean State Sidelines" podcast that appears weekly on www.pawtuckettimes.com and www.woonsocketcall.com