Quran Nalory has her marching orders for the next calendar year.
A mother who finds herself in a unique position will see sands sliding from one end of the hourglass to the other side at 2 p.m. Saturday at the Dunkin' Donuts Center. How Nalory goes about the quest of stitching a "split team" basketball jersey with half paying tribute to the Providence Friars while the other half serves as an homage to the URI Rams figures to be a fun-filled assignment that at the end of the day will enable her to showcase the best of both worlds.
"It's my project for the next year to figure it out … how we're going to make this jersey into one," said Nalory when reached one night earlier this week. "I've been trying to find someone to start on it because it's going to take some thought."
It's family-first territory for Nalory, a parent with present-day connections to both sides of the state's annual passion play that's played out on the hardwood. One of her sons is a freshman guard on the Rhode Island roster (Tres Berry) while another son has signed his National Letter of Intent to join PC beginning next season (Quante Berry).
Before jumping too far ahead to next year's PC-URI game at the Ryan Center when Nalory's wardrobe hopefully includes stitch work of the half-and-half variety, let's reel it back to an individual with a vested interest in both programs.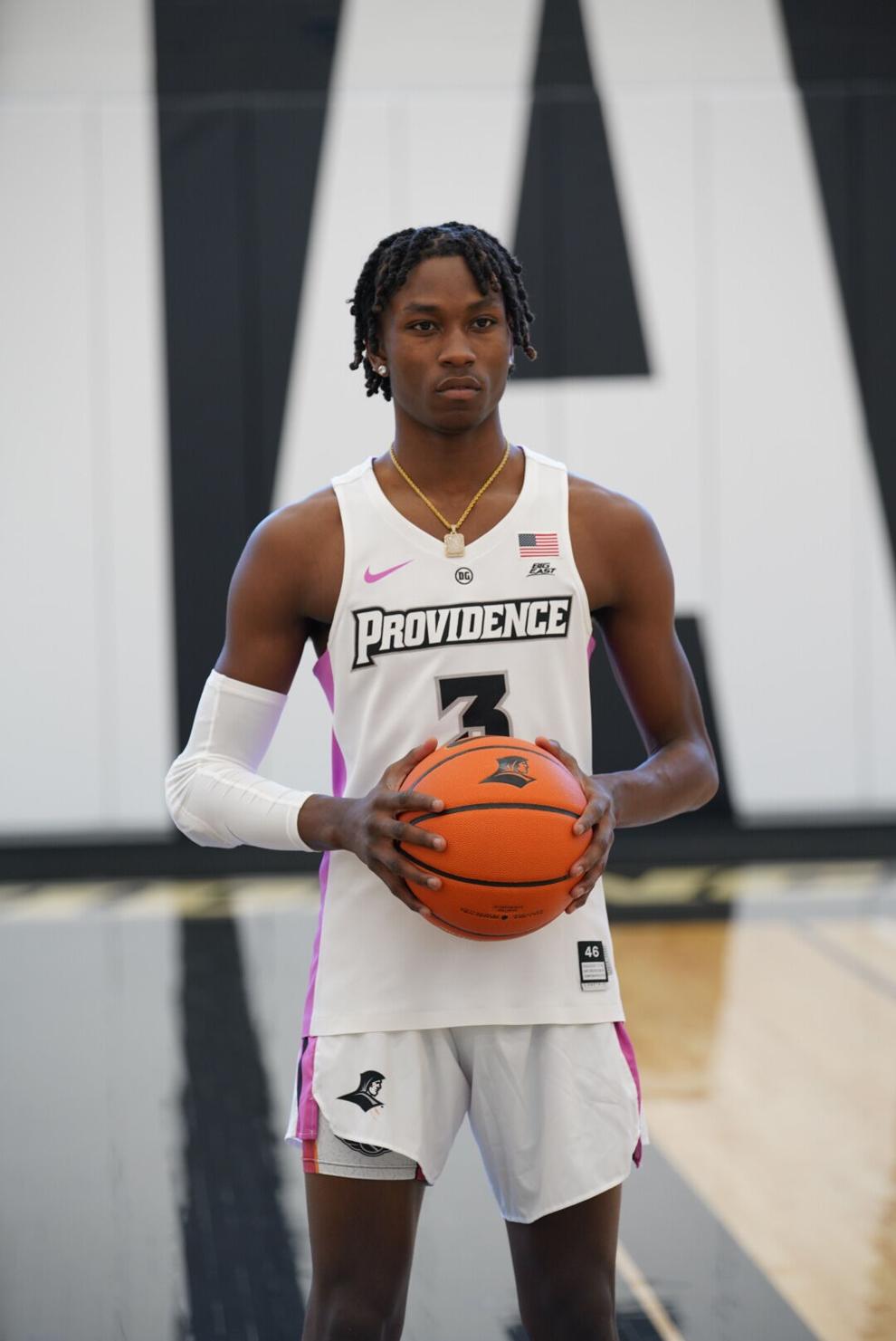 Nalory accompanied Tres Berry when he took his recruiting visit to the Kingston campus in Jan. 2020. Specifically, mother and son were present when Rhode Island turned away VCU. Fast forward to this past June with Nalory once again was back in the Ocean State. This time, she was alongside Quante as he toured Providence College.
The common thread between both recruiting visits involving the Berry brothers involved Nalory pointing out that she avoided traffic issues after departing T.F. Green Airport. Given the number of air miles she figures to rack up in the coming years when flying from her native Tennessee to Rhode Island, it's within the realm of possibility that she experiences the traffic headaches that often occur within the smallest state in the Union.
"I do see all the [traffic-related] tweets," said Nalory. "I also didn't realize how close it was [between Providence and Kingston] until going on both visits."
She's also seen all the social media barbs that have been traded between the two schools, hence Nalory understands why this particular game means so much to so many.
"It's a loaded question," responded Nalory when asked for her parental approach to Saturday where her son's future school squares off against her son's current school. "I watched PC [on Wednesday night against Texas Tech] after my other son's team played [at Harvard]. Seeing all the stuff on Twitter about the PC-URI game is exciting. I've got to cheer for my son's team, but I'm also cheering for coach [Ed] Cooley and PC as well to a certain extent this year.
"It's a game about the fans, but the thing that I've noticed is that until they play each other, certain fans cheer for both of the local teams," she added. "Don't get me wrong. There are some diehard Rhody fans and diehard Friar fans who don't cheer for the other team regardless, but it's good to see them cheer for the kids individually."
Naturally, the mother has conversed plenty with Cooley and URI head coach David Cox.
"Both of them are good coaches for my boys. I'm honored to have Tres and Quante play for these two coaches," said Nalory. "It's been great getting to know both of them. Each coach has been great for each individual kid.'
There will be a tangible benefit for the Berry brothers hooping it up in the same state with the two campuses roughly 45 minutes apart.
"More or less, they haven't been in the same state over the past five years. I'm excited that they'll be close to each other," said Nalory, a nod to the prep school paths chosen by Tres and Quante. "They're totally different as far as style of play but they're so close."
URI extended a scholarship offer to Quante before PC jumped into the picture.
"I didn't want to say, 'Wow, that would be great. You and your brother on the same team.' I think they knew my heart would love that," said Nalory, "but I got my boys close together. It was Quante's decision and I loved it at the end of the day. I didn't want to be too influential."
Originally, Nalory planned to be at The Dunk for Saturday's contest. With Tres Berry slowed by an ankle injury that sidelined him for the first six games of URI's season – he's appeared in one game to date – the decision was made for mom to head to Winston-Salem, N.C. for a two-game weekend card involving Quante's high school team. Quante has a 4:30 p.m. game Saturday with mother and son hoping to view the first half of a PC-URI game that'll be nationally televised. 
"I was booked and ready to come to Rhode Island," she said.
Next year, the Bunsen burner will be turned up on the PC-URI rivalry with a Berry brother officially in each camp. Give credit to Nalory as she's already thought of a perfect solution.
"It's going to be different next year so I'm just going to have to cheer for everyone who scores," she said.
The question is, will Nalory sit behind the PC or URI bench? Given her desire to wear something that reflects both the Friars and Rams, they'll be no need to form a search party to locate her.
"Never did we think they would be playing against each other," said Nalory.
Follow Brendan McGair on Twitter @BWMcGair03