A hearty helping of college hoops news & notes as May draws to a close …
• Jeremy Shulman grew to know and appreciate Providence basketball head coach Ed Cooley during the time they spent together at the 2015 USA under-19 team trials in Colorado.
"Holy cow, what an impressive person and not just as a coach," said Shulman.
Shulman's dealings within the sport's vast circle also includes counting Bryant associate head coach Brock Erickson a good friend.
When it came time for two players who suited up and thrived under Shulman's coaching watch at Eastern Florida State College to decide their future, their respective landing spot couldn't have worked out any better.
Last month, the Friars picked up inside-outside forward Noah Horchler, who played for Shulman during the 2016-17 season. Last weekend was Bryant's turn to import an Eastern Florida product as guard Ayo Dada committed to the Bulldogs.
Reached Thursday, Shulman discussed the merits of Horchler and Dada and why the PC and Bryant fanbases should be excited about adding players who can help out in multiple areas.
Dada has two seasons of eligibility and can suit up for Bryant beginning next season. Horchler will sit out the 2019-20 campaign and have one season to play for the Friars in 2020-21.
Eastern Florida was Dada's second stop on the junior college circuit. Originally, Shulman believed the Titans were set at two-guard, thus the plan was to bring Dada off the bench.
"All he did was outplay him every day in practice and take his starting spot," said Shulman about Nathanael Jack, who signed with Florida State and was the player that Dada leapfrogged on Eastern Florida's depth chart.
The Bulldogs landed an accomplished shooter – Dada hit eight 3s in a single half this past season – and at 6-foot-1 is, per Shulman, "a lockdown defender who took on the opposing team's top perimeter threat every single night." Erickson began recruiting Dada a few months ago, just as Eastern Florida was getting set for the NJCAA Division I National Tournament.
"Like a lot of kids, he wanted more of a name brand and play at a mid-major school. He's a great player. That's just not his level," said Shulman. "He dragged his feet on Bryant and a few other schools, but I'll give Brock a ton of credit. He just kept waiting it out while other schools grew frustrated and started signing other guys. Their hard work paid off."
Dada was also recruited by Florida Gulf Coast, UMKC, UNC-Wilmington, and Longwood. Eventually, Erickson and Bryant head coach Jared Grasso were able to convince Dada to visit the Smithfield campus.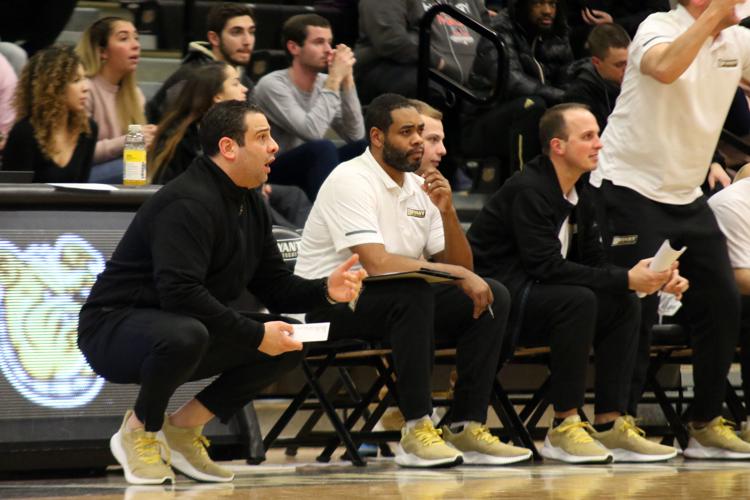 "Ayo's plan was to take more visits, but he was just blown away by the guys at Bryant. He loved it," said Shulman. He called me up and asked, 'Do I have your blessing to commit?' Absolutely. That was the only visit he took."
Like a lot of his guys at Eastern Florida, Shulman noted that Horchler was underrecruited coming out of high school – no Division I offers and only one from a D-II school.
"We told Noah that we thought if he came back for his sophomore year [at Eastern Florida], he would have gone to a high-major school," said Shulman. "He's got that it factor where he knows where he has to be on the court at all times. He's very instinctive and so productive because of that. He's special because he's so versatile.
"When I talked to coach Cooley, I told him that Noah has yet to reach his potential. Whether he does is going to be up to Noah, but he didn't start playing high school basketball until his sophomore year. He played golf instead," Shulman added. "If he makes the right decisions, he's going to make a lot of money playing professional basketball. If he takes advantage of [sitting out], he could be an all-conference guy as a senior."
After Eastern Florida, Horchler followed his heart and wound up at D-I North Florida, where he had two great seasons but saw his time there cut short after being dismissed in late February for violating team rules.
"He's a great kid, he really is," said Shulman. "The mistakes he made at North Florida … he's really a joy to be around and is a phenomenal person. The community up in Providence is really going to enjoy him."
When the Friars started to prioritize Horchler, Shulman said "it was easy for me to help Noah when it came to explaining what coach Cooley was all about. I felt really good about recommending that he goes to Providence."
As for seeing two of his former charges end up in the same state, Shulman noted, "it's awesome because they're two great kids. Obviously we have our season going on while they do, but if I can find a way to get up there and watch both guys play, that would be unbelievable."
***
• Now that Alpha Diallo has spent considerable time running in NBA circles, Cooley would like him to impart the knowledge and feedback he received to his Providence teammates. Delving deeper, this could be Cooley's way of helping Diallo strengthen his leadership skills as the versatile forward prepares for his senior year with the Friars.
"I do want him to share it because he went through the process, which I hope helps him grow as a player and a leader. Anything he can share will be good," said Cooley. "I'm looking forward to Alpha leading us to places we haven't been in a long time."
***
• There were a lot of sweaty palms among PC administrators and fans as Cooley weighed a lucrative offer to become the next head coach at Michigan. Count Big East commissioner Val Ackerman as among those who kept a close eye on how the Wolverines' strong overture toward Cooley unfolded.
"We were having meetings in Florida and it was very dramatic in some respects," said Ackerman, appearing at The Graduate in downtown Providence on Wednesday night as part of the Big East's 40th anniversary gala. "We're all relieved that Ed is staying. It also shows we're a premier destination for college basketball."
***
RIM RATTLERS: For those wondering about the non-conference schedules for the Friars and Bulldogs, PC has a few more open dates to fill but should be making an announcement relatively soon. Bryant's slate will feature the Bulldogs opening at home for the first time since the 2008-09 season. None of Bryant's non-conference matchups will take place outside of the Eastern Time Zone. … Summer school recently began for the Bulldogs and back on the court is junior point guard Ikenna Ndugba, who missed all of last season with a shoulder injury. … Seton Hall head coach Kevin Willard is expected to help Cooley on the United States entry that competes later this summer at the Pan-Am Games. … Easily the highlight of Wednesday's Big East gathering at The Graduate was longtime college basketball analyst Bill Raftery singing the Michigan fight song while sitting on the same stage as Cooley.
Follow Brendan McGair on Twitter @BWMcGair03