ABOVE PHOTO: Providence College fifth-year center Emmitt Holt missed all of last season with an intestinal issue. Holt's mother, Caroline, spent plenty of time at the end of last year at Massachusetts General Hospital in Boston to be with her ailing son. (Photo by Louriann Mardo-Zayat / lmzartworks.com)
 By BRENDAN McGAIR | bmcgair@pawtuckettimes.com
PROVIDENCE – It was the latest in a series of tangible, honest-to-goodness signs that Emmitt Holt's recovery remains on a positive trajectory. Only this time, progress wasn't being measured by Holt's workload on the basketball court or in the weight room.
This was about the facial expression the fifth-year senior at Providence College displayed upon recently walking into his Rochester, N.Y. home. The smile was genuine in every conceivable sense but also hinted at a playful tone, the kind that was automatically triggered whenever Holt was back on familiar turf and once more in the presence of his mother, Caroline.
"I saw my baby's face, the old one that would come in and tackle mom," said Caroline during a phone interview that took place one night last week while Emmitt was out visiting family.
To Caroline Holt, seeing is truly believing when it comes to her son. One year ago, Emmitt was the picture of perfect health and on the fast track to finishing his college basketball career on a high note. Then came a life-altering setback where a parent saw her child fight for his life and undergo abdominal surgery, a last resort but a necessary course of action to keep Emmitt alive.
Looking back, the whole scenario was downright frightening, not to mention totally unexpected.
"Emmitt never had any ailments, not so much as a broken bone or a virus," Caroline said. "He's never been a sickly child. That's the crazy thing."
These days, Caroline Holt counts her blessings. Emmitt may still have a few miles to go before the hoops leg of his comeback journey is complete – "We'll call Italy the test run," says Caroline, referencing the 10-day, four-game experience that awaits the Friars beginning Tuesday – but he's still here. To his mom, that's what truly matters.
"One thing I've always said, and that includes when Emmitt was in the hospital, is that if I can look into his eyes and see that he's okay, then I'm okay," Caroline said. "Now when I look at him and he's excited and full of life and pushing to get back to where he was … to me he's just as strong as he was before."
***
The phone call to Caroline came last September. Emmitt was on his way to a Providence emergency room after complaining of stomach pains. At that point there was no real reason to panic. Turns out it was the first sign that something was seriously wrong with Emmitt.
Caroline immediately came down from Rochester to sit by her son's side, first in Providence and later when he was moved to Massachusetts General Hospital.
Tangible answers remained elusive despite a couple of procedures to address what at the time was deemed to be a problem with Emmitt's intestines. What was known was that Emmitt had a full-blown fever. The struggle to get his blood pressure and heart rate under control was confirmed by the battery of tests he underwent.
Each test yielded the same frustrating result – negative.
"He was swelling up very big," Caroline said. "What was happening was completely out of the blue."
More tests were held as Emmitt continued to struggle to fight the toxins in his body. Then came a conversation that would send shivers down any parent's spine.
"We've got to do some kind of surgery to see what's going on," Caroline Holt was told. "He's very sick and if we don't do something, we may lose him."
***
It was October, less than a month to go before the 2017-18 season tipped off. Instead of being on the court with his Friar teammates, Holt was in Boston at MGH, struggling.
"At first he gained a lot of weight because his body was fighting. After the surgery, he lost an extreme amount of weight, at least 30 pounds," Caroline said.
The procedure was deemed successful after a roughly month-long stretch that featured dramatic swings in Emmitt's health, yet he was far from out of the woods.
"Looking back and seeing the life sucked out of him, it was very, very scary," Caroline said. "Many prayers and many tears is all I can say."
The post-surgery world proved just as trying. Emmitt remained at MGH until the weekend before Thanksgiving. His weight dipped below 200 pounds, a far cry from the 240 pounds he was listed at during his junior year at PC in 2016-17.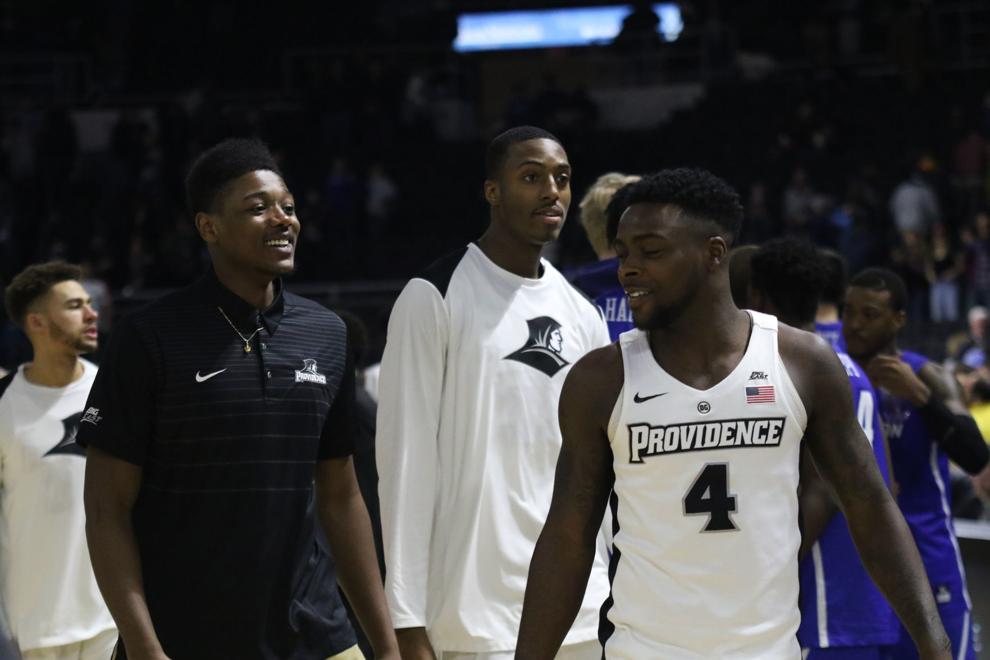 "He could barely walk. Every bone in his body was hurting," Caroline said. "I didn't let him look at any mirrors. Every day I told him that he was beautiful. You're okay and alive. That's all I cared about."
Eventually, Emmitt progressed to perform basic physical therapy tasks while at MGH – dumbbells, soft medicine balls, and rubber bands. Certainly it was a good sign, but there was still the matter of dealing with the inner trauma and subsequent scarring that stretched well beyond the crushing reality of missing an entire basketball season.
"Once Emmitt pushed through his emotions, he said, 'You know mom, I'm glad that I am alive,'" Caroline Holt said. "We are people of faith. Every morning when he got up, we prayed that thank God he was alive. Every night, we prayed that he wakes up that next morning."
Thankfully, Caroline did have to cope alone. On the rare occasions she wasn't in Emmitt's hospital room at MGH, someone from Providence College would sit with him. The school provided countless doses of reassurances, from hospital visits, flowers, food, to phone calls.
"They cried as much as I did because we didn't know what was going on," Caroline said. "They supported us more than anyone will ever know."
The younger Holt maintained contact with his Friar running mates via Facetime. When it came time for Emmitt to finally get discharged, he pleaded with the doctors to let him return to PC, but to no avail.
"The doctors said Emmitt needed to let his body rest, hence he needed to go home [to Rochester]," Caroline said. "He felt like he was missing his family. He said, 'Ma, if I can just be there to cheer the guys on. I don't have to play.'"
It was unique for Emmitt Holt to spend the entire month of December and the first half of January at home, but also necessary. He needed to continue to build up his strength and for now forget about the aforementioned months which normally would have represented his busy time as it relates to basketball. Eventually, he received clearance to return to Providence, and not a moment too soon.
Listed at 6-foot-7, Emmitt became the tallest cheerleader at PC games, showering his teammates with words of encouragement that doubled as the perfect outlet for him after everything he was forced to endure.
"What you saw on the bench is the same thing I saw when we watched the games at home. He's screaming and hollering and telling them what they should be doing like they can hear him," Caroline said. "It was very important for him to go back. They're a part of his heart. They're his family."
***
Back in school and back around the Friar program meant that Holt had to fight one major temptation. He wasn't going to get it all back with one therapy session, one conditioning run, or one 5-on-5 sequence. He had to pace himself and understand that he wasn't too far removed from an ordeal that had provided his body with a seismic jolt.
"Like any person in Emmitt's position, he's going through the process, but he would love to rush the process," Caroline Holt said. "In reality, he understands that his body is still in recovery, but he wants to be back to the place he knows.
"I would say he's working through the process but also pushing himself to the max. He really wants to be back out there at his best," she added, "but to see what he looked like less than a year ago to what he looks like now … it's completely night and day."
Mother and son have sat down with PC coach Ed Cooley about Emmitt's role during the upcoming trip to Italy. Getting his legs going in a competitive setting will be a major boon, but there's also the understanding about the more important picture, i.e. the regular season.
"Italy is the trial to see if he can handle the pressure of being back on the court. November is the real deal," says Caroline, adding the plan is to have family members in attendance for the Nov. 6 opener against Siena at The Dunk.
When that day comes, expect Caroline Holt to shed more tears. This time, they won't be tears stemming from fright. They'll be tears of pure joy.
"He's a walking miracle I tell you," she said.
Follow Brendan McGair on Twitter @BWMcGair03