SMITHFIELD — Mason Palmieri was done playing baseball. His love wasn't the same for the sport that for the longest time had shaped many decisions.
The Lincoln native had grown tired of dealing with injuries, the subsequent torture of trying to come back, and searching high and low for success that never materialized on a regular basis. Palmieri still had one season of eligibility remaining. Over a period of four years, the desire to continue pitching for Bryant University began to fade like a slow burn.
There was enough bitterness percolating that walking away seemed and felt like the only logical decision. Last spring upon receiving his undergraduate degree, the fact Palmieri still had the opportunity to return to the Bulldogs for the 2020 season mattered very little – at least in his mind.
"I hated the way I felt about the game," said Palmieri, his voice full of resolve that spoke to just how committed he was to walking away. "My relationship with baseball had become complicated. I had become incredibly frustrated."
From the lowest of lows is where the anatomy of this particular comeback begins to take significant shape.
In the months following graduation from Bryant, the cozy blanket that Palmieri's ego slept with at night, knowing that baseball could only be referenced in past terms, gave way to entertaining serious thoughts of unfinished business. You don't want to be the guy who 10 years down the line looks back and wonders what could have been had that final aforementioned last season of pitching in a college setting remained on the table, do you?
As Palmieri gears up as one of the elder statesmen on the Bryant pitching staff, the 6-foot-5, 220-pound righthander who's listed as a graduate student does so in a great spot – mentally and physically. The comeback trail that for the longest time had become synonymous with his Bryant career has been replaced with a fresh perspective, one that can be traced by the belief instilled in him by new head coach Ryan Klosterman, a summer spent pitching in Newport, and knowing that a career working 9-to-5 could wait a little bit longer.
***
Sitting in a chair in the Chace Athletic Center on a recent evening, the conversation with Palmieri began with nearly six years passing since he verbally committed to Bryant. He was asked if he remembered talking about the big decision he made as a Lincoln High junior after tossing a complete-game, five-hitter against Woonsocket at Renaud Field.
"In the grand scheme of things, six years ago doesn't feel like six years ago," he said in reply.
From that April 2014 afternoon of hope and promise, Palmieri saw his baseball career screech to a grinding halt along with countless pressing of the redo button.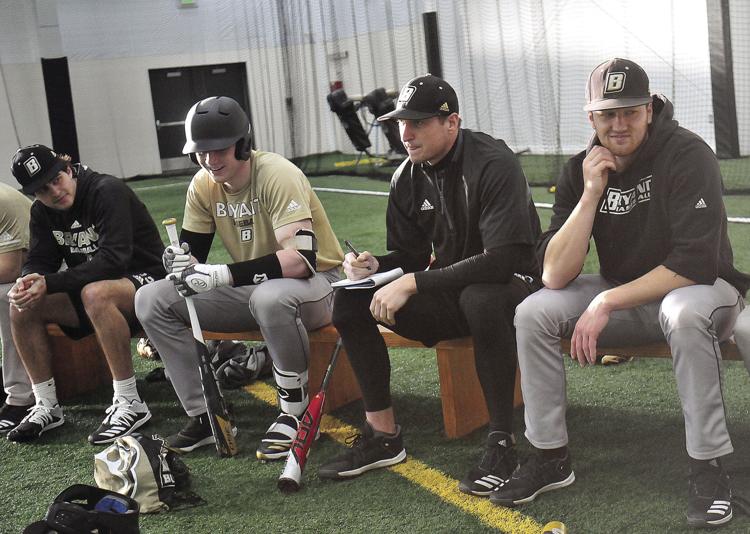 His freshman 2016 campaign with the Bulldogs was short-circuited after it was revealed he had an issue with his ulnar nerve. Season-ending surgery was prescribed after logging two innings spread over two games.
Palmieri recalled feeling like his old self during his redshirt freshman season (2017). He appeared in 15 games for Bryant, which to date represents a career best. The plan was for Palmieri to start games heading into 2018, but issues with command coupled with performance anxiety set him back. It didn't help his psyche that his elbow flared up again.
"I thought I was going to need another surgery but wound up not needing it," said Palmieri. "I ended up missing half the [2018] season before getting into a position to pitch in an actual game."
His confidence returned after tossing a three-pitch inning in a Northeast Conference Tournament game before the return of more bad misfortune on the mound. Pitching for Mystic, Conn. of the New England Collegiate Baseball League, Palmieri's 2018 summer went from promising to shaky in a hurry. His command was spotty, a red-letter danger signal that burst into flames one night in Plymouth, N.H. The last batter Palmieri faced in what amounted to a three-inning outing … his discomfort reached critical mass.
"I felt a pop in my shoulder," said Palmieri, uttering words that for pitchers are usually accompanied by tough-to-swallow news. "I immediately knew something was wrong. My adrenaline was pumping and I was able to gut my way through. The next morning when I woke up, I couldn't move my shoulder or lift my arm."
Upon consulting the surgeon who performed the ulnar surgery, the MRI confirmed Palmieri had torn every ligament in his shoulder. It was another setback where more surgery was necessary. Instead of an extensive procedure to repair the damage to the rotator cuff, labrum, and bicep tendon, Palmieri opted for a partial repair in an effort to be ready to answer the bell in 2019.
"All of the ligaments are still torn to this day, but it's all about pain management," said Palmieri. "To be honest, everything feels good."
That wasn't the case last spring as more setbacks ensued. Walking the fine line between a right arm that could be described as a ticking time bomb and Palmieri's desire to contribute was made harder when he didn't know if the Bryant coaching staff felt confident in him. In terms of dugout responsibilities, Palmieri was an ace in all things related to holding a clipboard and charting pitches along with data entry. The particulars of that process, however, had become mundane. To him, he was part of the team in some ways while absent in the more important aspects.
It wasn't until Bryant's 14th game when Palmieri finally saw his first action of 2019. Of the seven appearances he made, five of them were scoreless.
"My mindset was to hold on to the ball for as long as they needed me out there to save arms," he said, "but at times I felt like I was along for the ride."
Realizing he squeezed as much as he could out of his right arm, Palmieri communicated that he was hanging up his cleats. The game that once gave him the opportunity to earn a Division I scholarship had been reduced to a chore.
"I was almost mentally exhausted from baseball. It was either rehabbing an injury or dealing with a mental issue," said Palmieri. "Other than a few outings here or there, I never found true success, hence I was ready to move on."
***
Armed with a Bryant degree in management with a concentration in psychology, Palmieri landed a fulltime job for a logistics company as a salesman. It was a rinse-and-repeat situation where the 22-year-old admitted to feeling like a robot.
"Reading off a script, making cold calls in the car, driving to speak to the owner," were just some of Palmieri's responsibilities.
At the same time Palmieri was attempting to find his niche in the work force, his perspective on baseball started to change for the better. Many nights last summer, Palmieri drove to Newport and pitched for Brothers Oven of the George Donnelly Sunset League.
More often than not, the games at Cardines Field was well underway when Palmieri showed up in the dugout. What he found was a situation that was long on camaraderie and short on pressure. The company he was keeping featured enough baseball war horses who had endured their own surgical bouts, yet their love for the game remained unchanged.
Nobody on Brothers Oven – "Bros" as they're known as – cared if Palmieri had a bad outing that based off past experiences would have caused him to slide further down the depth chart. Everyone was supportive of each other. That told Palmieri something and in turn allowed him to pitch with his mind free of the burdens that made his time at Bryant largely forgettable.
"Even though they weren't as physically gifted as some of the players I was used to facing, in many ways they knew the game better," said Palmieri. "After the game, we would talk in the parking lot and I would pick their brains. That helped me to fall back in love."
***
In the midst of the summertime renaissance that for Palmieri amounted to a dozen outings for Brothers Oven, he missed a call from a Florida-based number. Bryant had hired Klosterman, who came from the University of Central Florida, after Steve Owens departed for the head-coaching post at Rutgers.
"I kind of put two and two together. I called him back, he answered, and we ended up having a good conversation," said Palmieri. "I knew immediately he was a coach I wanted to play for."
Going through the roster and seeing what spots were available, Klosterman was encouraged about the feedback he received upon mentioning Palmieri's name. The new Bryant coach was also told that Palmieri had put a bow on his college career despite having one more season to compete.
"Still, it was a worth a phone call to me to pick his brain and to see if he wanted to push forward," said Klosterman. "Roster-wise, it was something where I wouldn't have to shake up a lot of things."
The main selling point was the opportunity for Palmieri to use his fifth year as prime means to obtain a master's degree – not to mention authoring a different sort of college baseball tale. After consulting with his parents Mark and Kathryn, Palmieri left his salesman position. Three days before school started, he was admitted into Bryant's MBA program.
"We [the Bryant baseball players] have a group chat that remains active throughout the summer. Even when it was not 100 percent certain that I was coming back, I put a GIF of [famous WWF wrestler] The Undertaker rising from the dead. I got a lot of positive feedback but didn't really address it," said Palmieri. "That first day of fall ball, I showed up and it was everything you would imagine … returning to someplace that was home."
Said Klosterman, "The day he decided he was coming back, I was very thankful."
***
With a few Bryant pitchers held out for precautionary reasons, Palmieri used the fall 2019 months as a prime opportunity to emerge and make a favorable impression with a coaching staff that may not have recruited him to campus but nonetheless saw the trappings of a valuable contributor.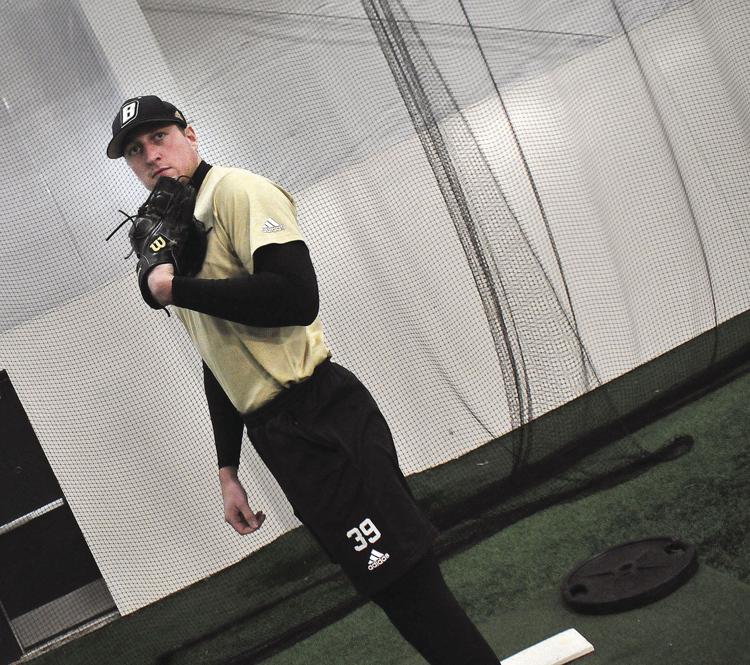 "He came out on a mission. He was a leader, displayed confidence on the mound, and attacked hitters," said Klosterman.
By gaining the trust of Klosterman and new Bulldogs pitching coach Ted Hurvul, Palmieri went into the winter months brimming with confidence. In turn, he was even more motivated to keep pushing and grinding so that his right arm would remain sturdy.  
"Any way you can draw it up, I've never been in a better spot," said Palmieri. "Coach Klosty told me I was someone he wanted on the team regardless of my performance. That was something I hadn't heard before."
There's no question Palmieri will be an integral part of the Bulldog pitching staff this coming spring, but now it's about how he fits into the bigger puzzle. Though he was conditioned to be a starter, he has a chance to do a lot of different things over the first few weeks before midweek games appear on Bryant's schedule.
"What day I get the ball is still to be determined, but I have to be prepared for every given scenario" said Palmieri, who thus far has totaled 32.2 innings in a Bulldog uniform.
"He should throw more innings this season than he has in his entire Bryant career," Klosterman proclaimed. "I don't dig into past statistics, but if you told me he was a weekend guy last year, I would have believed you."
Palmieri has grown tired of using injuries and rehab as excuses why his career at Bryant remained stuck in neutral. There have been enough rough falls.
"It was an elaborate lie that I kept telling myself that I couldn't do it," said Palmieri.
For a refreshing change of pace, let's see if a different, more uplifting tune can be whistled upon realizing that with one final year comes the chance to walk off with his head held high … knowing Palmieri emptied the tank down to the last drop.
"Deep down, there was probably going to come a point in my life where I would have regretted not using that fifth year," he said. "I'm ready to pitch the game for fun and eager to see where that takes me."
Follow Brendan McGair on Twitter @BWMcGair03